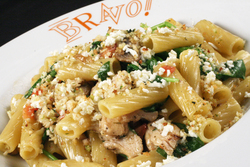 PASTA YANDOLINO
Bravo! Cucina Italiana Recipe
Main Dish:
1/2 teaspoon olive oil
1/2 teaspoon chopped garlic
3 ounces wood grilled chicken
2 ounces crimini mushrooms
2 ounces fresh diced tomatoes
2 ounces Vegetable Bercy (
recipe follows
)
2 tablespoons Herb Butter (
recipe follows
)
1 tablespoon feta cheese (
plus more for garnish
)
salt and pepper
1 ounce fresh spinach
7 ounces cooked rigatoni
In saute pan, heat oil. Add garlic, chicken and mushrooms and saute. Add tomatoes, Bercy, herb butter, feta cheese and season with salt and pepper. Add spinach, making sure not to over cook.
Toss with rigatoni. Garnish with feta cheese and pesto crumbs.
Vegetable Bercy:
1/2 ounce olive oil
1/2 ounce chopped shallots
1/2 teaspoon chopped garlic
6 ounces white wine
1/2 gallon water
3 1/2 tablespoons vegetable base
1 1/2 ounces cornstarch
1/2 cup water
Heat oil in medium size pot. Add shallots and garlic; saute until translucent. Add white wine and reduce by one third. Add 1/2 gallon of water and vegetable base. Bring to a simmer. Mix cornstarch with remaining 1/2 cup water and add to the pot. Mix until thickened and remove from heat.
Herb Butter:
1 pound unsalted butter
1 1/2 tablespoons chopped garlic
1 1/2 tablespoons fresh chopped parsley
1/4 teaspoon dry basil
1/4 teaspoon dry thyme
1/2 teaspoon salt and pepper
In a mixer with paddle, cream butter until soft. Add remaining ingredients and mix until well incorporated. Do not over mix.