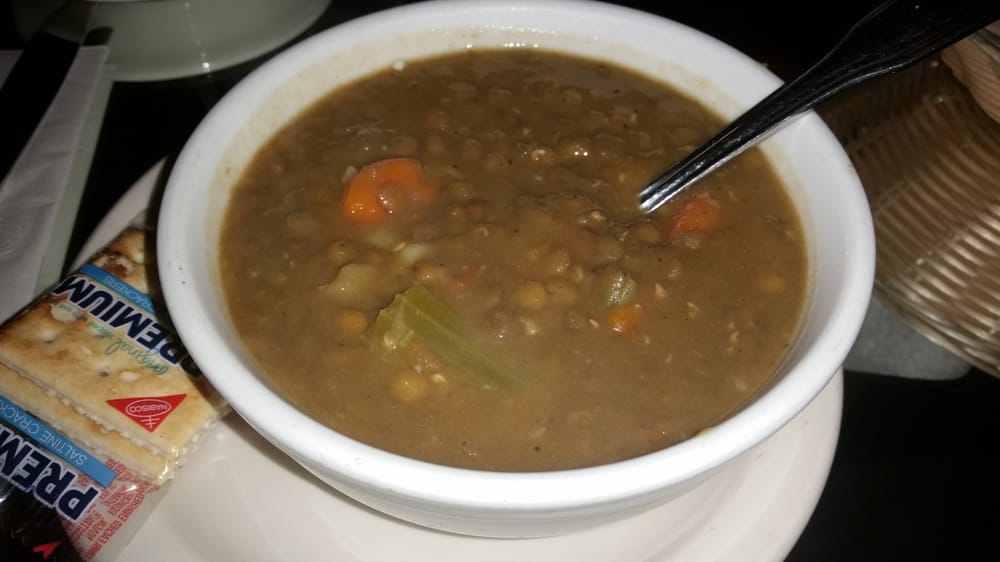 RUSTIC LENTIL SOUP
Carmine's Restaurant Recipe
Serves 4
2 tablespoons olive oil
1 tablespoon unsalted butter
2 ounces diced pancetta
2 strips bacon, diced
1 garlic clove, peeled and finely chopped
2 carrots, chopped
2 celery stalks, chopped
1 onion, peeled and coarsely chopped
2 small plum tomatoes, peeled, cored, and finely chopped
5-6 cups homemade chicken stock or canned chicken broth
2 bay leaves
1 teaspoon salt
1/2 teaspoon fresh thyme leaves
1/2 teaspoon fresh oregano leaves
1/4 teaspoon hot red pepper flakes
1/8 teaspoon freshly ground black pepper
1 1/2 cups green lentils, rinsed and drained
1 russet potato, peeled and diced
1-2 (5 oz.) Italian sweet or hot sausage links
In a large stockpot, heat the olive oil and butter over medium heat until the butter starts to foam. Add the pancetta and bacon and cook until the bacon is crisp, about 7 minutes. Add the garlic and cook until the garlic has softened, about 2 minutes. Add the carrots, celery, and onions and cook until the vegetables are tender and lightly browned, 10 to 12 minutes.
Meanwhile, strain the chopped tomatoes through a fine mesh sieve, pressing on the pulp to extract as much liquid as possible. Add 5 cups chicken stock to the pot and then stir in the strained tomato pulp, bay leaves, salt, thyme, oregano, red pepper flakes, and black pepper. Add the lentils, increase the heat to medium-high, and bring the soup to a boil. Partially cover the pot and reduce the heat to a simmer. Cook the soup for about 45 minutes. Add the potatoes and cook the soup for about 15 minutes more, stirring occasionally, or until the lentils and potatoes are tender. Add more chicken stock if the soup becomes too thick.
Meanwhile, remove the casings from the sausage. In a small nonstick saute pan over high heat, cook the sausage, breaking it up with a wooden spoon, for 4 to 5 minutes or until it is nicely browned.
Add the sausage and any fat remaining in the pan to the soup. Simmer for about 5 minutes. Taste the soup and add salt if necessary. Remove the bay leaves and serve.