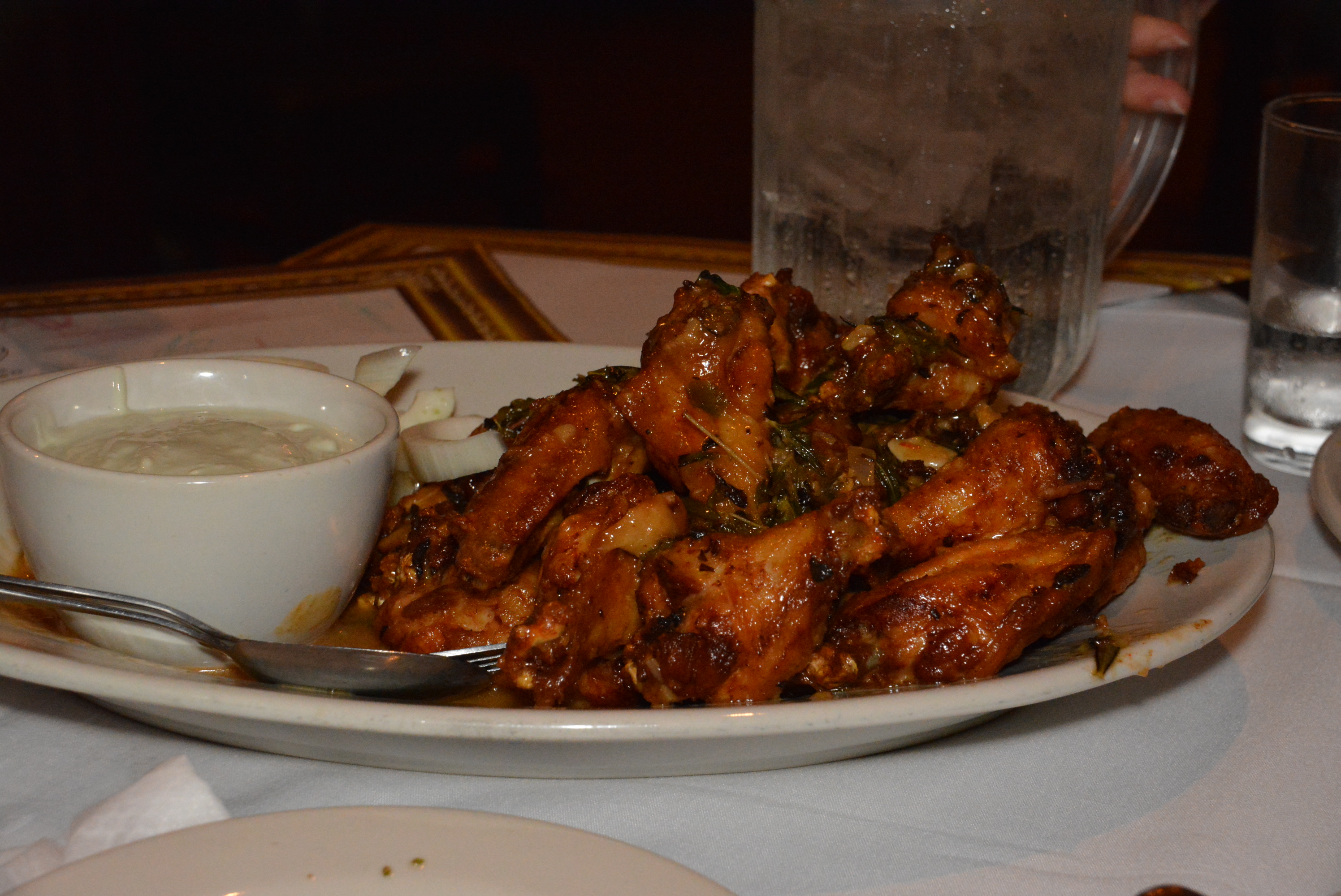 SCARPARIELLO CHICKEN WINGS
Carmine's Restaurant Recipe
Serves 6-8 (30 pieces)
Chicken Marinade:
4 pounds medium chicken wings, separated at the joint
1 lemon, halved
2 tablespoons fresh garlic, sliced
1 tablespoon fresh rosemary, chopped
1 tablespoon fresh sage, chopped
1 tablespoon fresh oregano, chopped
1 1/2 teaspoons kosher salt
1/2 teaspoon cracked black pepper
3/4 cup
olive oil blend (
3 parts canola oil to 1 part olive oil
)
2-3 cups canola oil
Sauce:
1/4 pound plus one tablespoon unsalted butter
1 tablespoon shallots, chopped
1 tablespoon fresh rosemary
1 tablespoon fresh oregano, chopped
1 cup chicken stock
1 teaspoon Tabasco sauce
1/2 teaspoon kosher salt
1/2 teaspoon red-pepper flakes (optional)
1 large clove roasted garlic, mashed into a paste
Juice of one lemon
Rinse the chicken under cold water. In a medium bowl, mix together all of the marinade ingredients except for the chicken and frying oil. Add the chicken to the marinade and toss to coat. Cover and refrigerate for at least 48 hours, turning the chicken wings every few hours.
In a 3 quart or larger pot, heat the canola oil to 350 degrees over medium-high heat. Line a plate with paper towels. Remove the wings from the marinade and clean off any herbs and garlic. Pat them dry with paper towels. Working in batches to avoid overcrowding, pan fry the wings until they begin to brown on the undersides, then turn them. When browned all over and thoroughly cooked through (4 to 5 minutes per side), transfer the wings to the paper towel lined plate.
For the sauce: In a large saute pan over medium-high heat, melt 1 tablespoon of butter. Add the shallots and saute until translucent. Add the rosemary and oregano and saute for 20 seconds more. Add the white wine and cook until the liquid has reduced by half. Add the chicken stock, Tabasco, salt, red pepper flakes and roasted garlic. Cook until the liquid has again reduced by half.
Finish by adding a few tablespoons of butter. Bring to a boil and season with salt and pepper to taste. Reduce to a simmer and whisk in the remaining butter. Add the lemon juice. Toss the wings in the sauce for 5 seconds. Spread the wings on a serving platter and cover with the sauce.