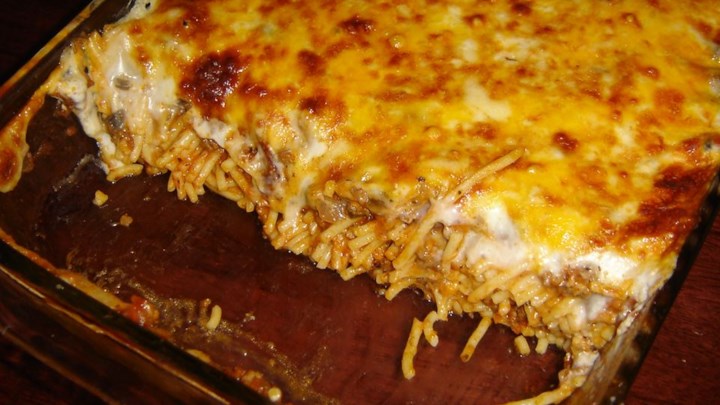 BAKED GARLIC CHICKEN SPAGHETTI
Fazoli's Restaurant Copycat Recipe
2 tablespoons olive oil, divided
1/2 cup biscuit mix
2 tablespoons grated parmesan cheese
1 teaspoon basil
1 teaspoon oregano
1/2 teaspoon garlic powder
1/4 teaspoon pepper
4 boneless chicken breast halves
1 quart home-made tomato sauce
1 (28 oz.) can spaghetti sauce
3-5 garlic cloves, minced
3 cups shredded mozzarella cheese, divided
12 ounces linguine, cooked & drained
1/2 cup parmesan cheese (set aside for later)
Preheat frying pan to medium high; preheat oven to 350. Grease 13x9 inch pan with 1 tablespoon of the olive oil.
In a medium bowl, combine biscuit mix, Parmesan, basil, oregano, garlic and pepper. Pull "tenders" from breast halves. Dredge all pieces in the biscuit mixture; pressing it on as necessary.
Add remaining oil to hot frying pan, and brown the chicken pieces, turning to brown all sides. Remove pan from heat.
While meat is browning, mix tomato and spaghetti sauces; add garlic & more herbs if you wish. Spread a layer of cooked pasta over the bottom (
about 1/3 of total pasta
) of the 13x9 inch pan. Sprinkle with 1/4 of the Mozzarella cheese. Spread about a cup of the sauce over this. Repeat twice. (
You should have about a cup of cheese left.
) Lay the chicken pieces over the last layer of pasta-cheese-sauce. Pour the remaining sauce over the top of the meat, sprinkle on the remaining Mozzarella. Pop in the oven for 30 minutes; then sprinkle on reserved Parmesan cheese, bake for 10 more minutes. Serves 8-12.